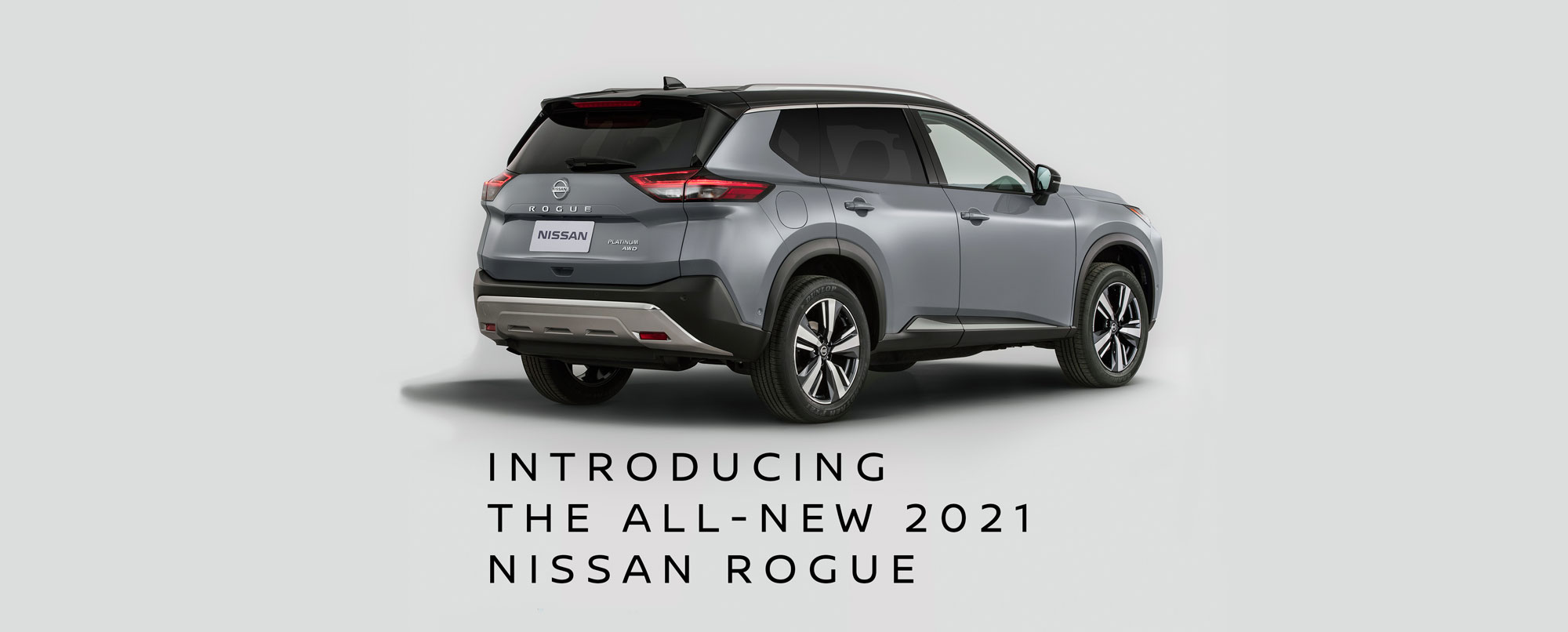 The Nissan Rogue is a popular SUV; in fact, it's one of the top compact SUVs around. If you're in the market for a new vehicle, then the Nissan Rogue is certainly one to consider. This is especially true if you want an SUV that is not only elegant, but well-rounded too. So why buy a Nissan Rogue? Here's everything you need to know about the
New Nissan Rogue 2021
.
Trims
As with most other vehicles, the 2021 Nissan Rogue comes with several trim options. They are:
S
,
SV
,
SL
, and
Platinum
. We are the Nissan dealer in Fort Worth that has all of them available. The S trim is the starting trim, meaning it's the most financially economical choice. As you move up in trim choices, you'll get more and more luxurious options, as well as more safety features. The exact features for each trim are unknown at the time of writing, but keep checking back, as we'll update you when we know more.
What we do know is that the Platinum trim is a new trim level for the Rogue this year, as previous models only had S, SV, and SL. So, expect some excellent things to follow.
Design
The Nissan Rogue's design has been relatively unchanged since 2014, but for the 2021 Rogue, Nissan has decided that it is time to change things up. However, they haven't done so much with it that it's unrecognizable; you'll still get the elegant and sleek design that the Rogue is so well-known for.
The all-new 2021 Nissan Rouge is slightly shorter vehicle than the 2020 version; it's shorter by 1.5 inches. Also, you'll get 2-tone color options, as well as a floating roof design. While you'll still get the classic V-Motion grille in the front, the 2021 Nissan Rogue's lights are all separated neatly, which is bolder and a refreshing change from the older Rogue models. Also, this SUV has speed-sensitive grille shutters that are there to help reduce drag when you go at higher speeds.
Inside, you'll get Zero Gravity material across the front and outboard back seats. While cloth seats are standard, you can always upgrade for leather or semi-aniline leather for the higher trims. Instead of a mechanical shifter, the 2021 Rogue has an electronic one. 
Powertrain
If you wanted more power in the 2020 Nissan Rogue, then you'll be pleased to know that Nissan's outfitted their 2021 SUV with a more powerful engine. In the 2021 Nissan Rogue, you'll find a 4-cylinder engine that's capable of 181 HP. Compare this to the 2020 Rogue's power of 170 HP.
Front-wheel drive is standard with all trims, although all-wheel drive is available as well. If you opt for all-wheel drive, you'll also get Vehicle Motion Control. This makes your ride much smoother.
Fuel Economy
There are no confirmed numbers yet in terms of the 2021 Rogue's fuel economy. But if you look at the 2020 model, it can get up to 26 MPG in the city and 33 on the highway. Considering the powertrain is slightly more powerful in the 2021 Nissan Rogue, you can expect the fuel economy to be around the same, if not a little lower.
Cargo Space
What made the 2020 Rogue so great was that despite being a compact SUV, it had plenty of cargo space. So will the 2021 version of this vehicle be just as good? This Nissan dealer in Dallas is happy to report that it'll actually be even better! You'll get increased cargo space, with 74.1 cubic feet available when you have the rear seats down. With the seats up, you'll get 39.3 cubic feet of space.
You'll also get to use their Divide-and-Hide storage system. This allows you to personalize your cargo space to make the most of it while also hiding anything that's of value. That's not it either. In this new model, Nissan's put in new storage spaces, such as under the shifter. They've also taken the previous existing storage spaces and improved them so you can store things more easily while driving.
Infotainment
The lower trims will get an 8-inch touchscreen while the upper ones will get a 9-inch one. What's great is this infotainment system is wireless, which means you won't need to connect your phone to charge it. In addition, there's support for Apple CarPlay, Android Auto, and NissanConnect Services. You'll also get USB A and USB C ports for your convenience.
Safety
At the time of writing, the 2021 Nissan Rogue hasn't gotten an official rating from either the NHTSA or the IIHS. However, the 2020 Rogue received an overall rating of 4 out of 5 stars from the NHTSA, so you can expect similar ratings for this model.
All trims will come standard with automatic rear braking and rear door alert. They'll also have the Nissan Safety Shield 360 suite, which includes things like:
•
Automatic emergency braking
•
Rear cross-traffic alert
For those who want extra security, you'll be pleased to know that you can also upgrade to a surround-view camera system. Plus, you can opt for ProPilot Assist, which is a partially automated driving system.
Buy a New Nissan Rogue 2021
Now you know all about the new 2021 Nissan Rogue, which is one of the best compact SUVs around. With so many wonderful features in addition to its beautiful design, you certainly can't go wrong with purchasing this vehicle.
If you're thinking of looking for "Nissan dealer near me," you're in the right place.
Fort Worth Nissan
is the Nissan dealer in TX you can count on! We have the right 2021 Nissan Rogue for sale that'll be a fantastic addition to your garage. Would you like to test drive a new Nissan Rogue 2021? Or do you have some questions or concerns,
contact us
today!
If you're interested in more of Nissan's top models, make sure to check out our 
research hub
 page for more information.
Interested in the 2021 Rogue?
The All New 2021 Nissan Rogue: The Complete Guide