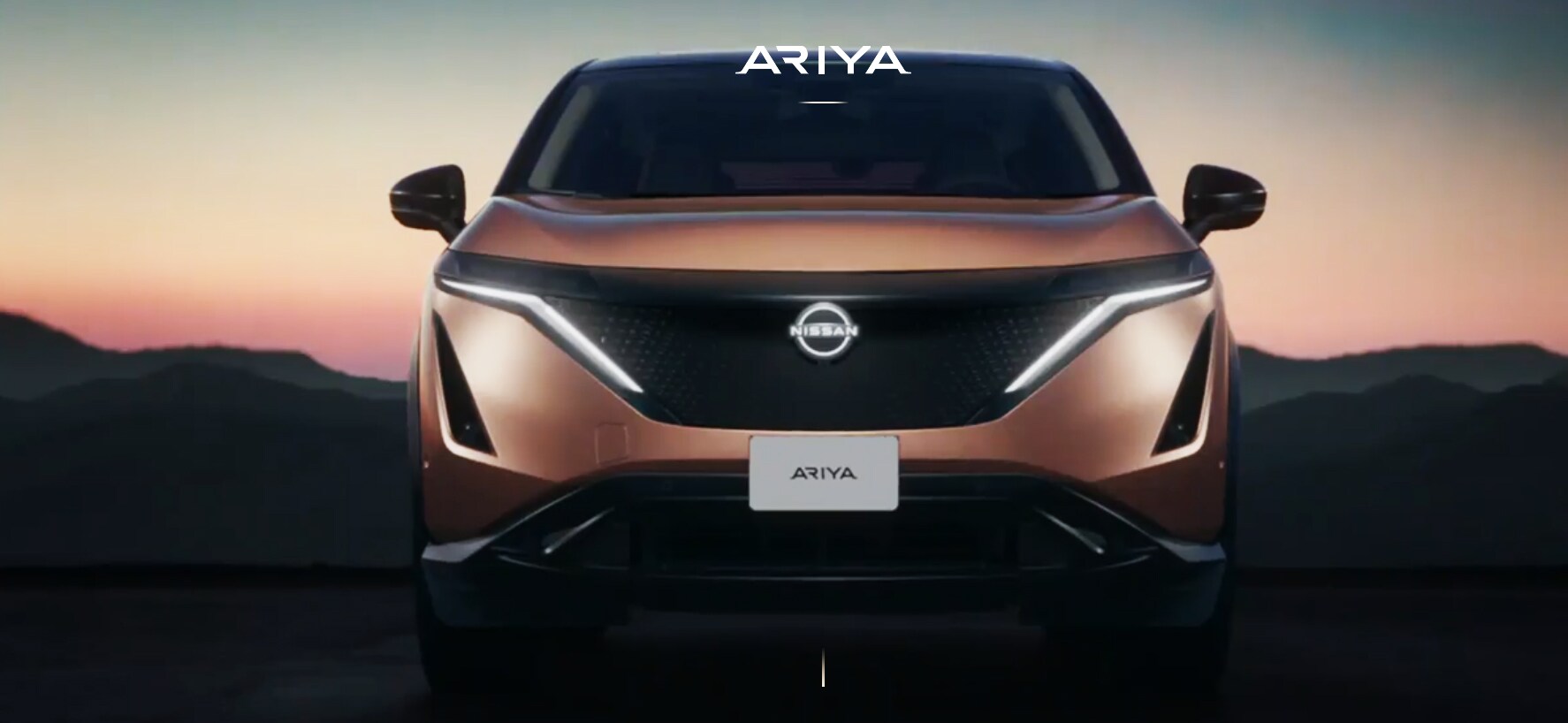 The all-new 2022 Nissan Ariya
is an electric crossover, with the most powerful version offering 389 horsepower and 300 miles on a single charge. Similar in size to the Nissan Rogue, the Ariya has a pleasingly minimalistic and modern design. It's wider and sits lower to the ground, which gives the Ariya a sportier look. It looks far more futuristic than any other vehicle in Nissan's current lineup.
In the US, the vehicle is expected to go on sale in late 2021. While it has taken some time to get here, it's certainly worth the wait. It's strikingly akin to the Nissan Ariya concept released in late 2019. Here's a breakdown of what we know so far.

Nissan Ariya Specs and Performance
Nissan's all-electric SUV will come in four different powertrain options. The base is a rear-wheel-drive vehicle with a 65 kWh battery pack, which can produce 215 horsepower and 221 pound-feet of torque. The step up from that offers two-wheel drive with a larger 90 kWh battery and 239 horsepower with 2221 pound-feet of torque.
Nissan will also have two e-4ORCE all-wheel-drive options. The first has a 65 kWh battery and two electric motors, providing 335 horsepower and 413 pound-feet torque. The second all-wheel-drive Ariya comes with a 90 kWh battery, 339 horsepower, and 443 pound-feet of torque. This option is good for 360 miles of road on one charge.
The e-4ORCE variants are expected to reach 60 mph in less than five seconds, comparable to other electric vehicles in its class. While the front-wheel-drive variant will be slower, it'll still have the characteristic peppiness of other EV powertrains.
Range, Battery Life, and Fuel Economy
If the Ariya can truly reach over 300 miles of range on a single charge, it's knocking other vehicles in its class out of the ballpark when it comes to battery life.
Similarly-sized vehicles like the Jaguar I-Pace and Audi's E-Tron have a reported 234 and 204 miles of range on a single charge, respectively. You can charge the Ariya at home using 110- or 240-volt outlets, as well as a shared public charging stations and DC fast-charging ports.
Nissan has yet to claim any MPEs figures, nor does the EPA have fuel economy estimates available. This information will likely be available closer to launch. 
Interior and Infotainment
The inside of the Ariya is, as expected, minimal and futuristic. The dashboard is smooth, offering a sleek look that matches the exterior of the vehicle. The Nissan Ariya interior has an intriguing lack of physical buttons. Rather than traditional dials and buttons used to control the vehicle's climate, you'll get touch buttons that are neatly incorporated into the dashboard's wood-like trim. When the car is off, these buttons are almost invisible. However, they illuminate when the car switches on. Similar buttons exist to control the drive mode and other features. Nissan has also added a flat, low floor to increase the spaciousness and comfortable zero-gravity seats.
The Ariya has dual 12.3-inch displays. One is the digital gauge cluster, and the other is the infotainment screen. Standard features will include Apple CarPlay, Android Auto, and navigation. 
The concept car had a feature that would sync the car with your schedule to pre-cool and pre-heat 
the interior while it's parked. Technology would allow you to use your phone to park the vehicle automatically using ProPILOT's Remote Park. These features are impressive, but whether they will be included is still to be confirmed by Nissan.
Safety Features
At this time, safety crash testing has not been performed by the Insurance Institute for Highway Safety (IIHS) or National Highway Trafic Safety Administration (NHTSA). However, Nissan is equipping the Ariya with an abundance of safety features. The Nissan Ariya is equipped with Nissan's latest ProPILOT 2.0 advanced driver assistance system in addition to ProPILOT Remote Park.
The ProPILOT 2.0 system expands on the first version by allowing drivers-who are attentive-to take their hands off of the wheel in certain conditions. It also incorporates a hands-on assistance system that keeps your centered in your lane while also navigating stop-and-go highway traffic.
Other key safety features include:
•
Standard lane-departure warning with lane-keeping assist
•
Standard automated emergency braking with pedestrian detection
•
Available adaptive cruise control with semi-autonomous driving mode
With all of these autonomous driving features on the table, we can't help but get excited.
Warranty Package
The Ariya will likely come with the same warranty package as the Nissan Leaf, including a competitive bumper-to-bumper policy. Its battery protection should stretch over 100,000 miles or eight years.
You can expect to receive a warranty that includes:
•
Limited warranty covers three years or 36,000 miles
•
Battery warranty covers eight years or 100,000 miles
•
Powertrain warranty covers five years or 60,000 miles
Trim Levels
Trim levels are an exciting piece of the puzzle, and the Nissan Ariya will offer three of them. While we don't have exact details, we know that each trim will offer the option of either a four-wheel-drive or all-wheel-drive train as well as two battery options. Stay tuned!
Contact Fort Worth Nissan to Stay Informed 
If you can't wait to test drive the new 2022 Nissan Ariya, we don't blame you-we can't either! We can help you by putting you on the waiting list. As soon as there is more information available, you'll be the first to know.
Why choose
Fort Worth Nissan
? We insist on being an excellent community partner, and we pride ourselves on our integrity. No matter the issue at hand, we'll always deliver on our word. You will always find respect at our dealership, which has contributed to our solid reputation for offering exceptional
customer service
.
If you're in Fort Worth, Arlington, or Burleson, we're right in your backyard, and we'd love for you to stop by and say hello.
Contact us
today with any comments or questions.
If you're interested in more of Nissan's
 top models, make sure to check out our research hub page for more information.