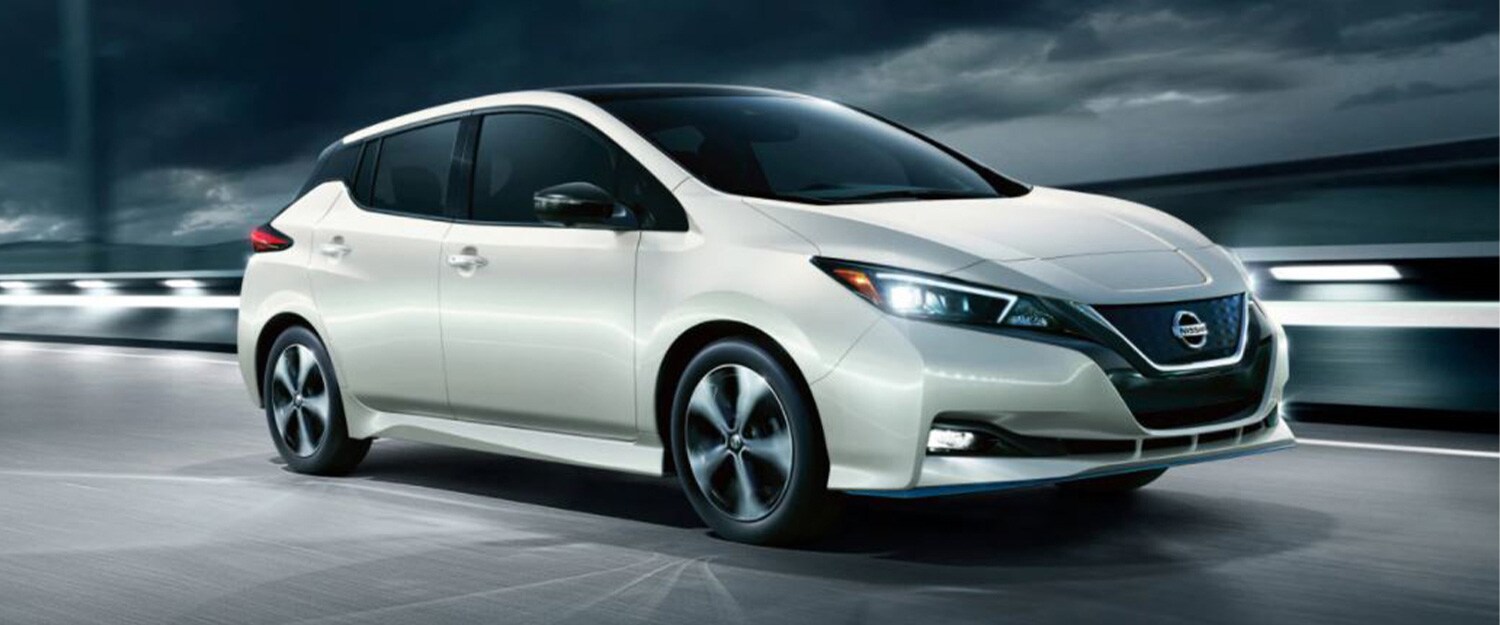 Are you looking to get an electric car? The new 2022 Nissan Leaf is designed to stand out on the road. The striking and sporty design, paired with advanced technology and a roomy cabin, makes a Nissan Leaf versatile for family life or commuting. The new 2022 Nissan Leaf is equipped with a range capable of long trips, comfortable seating for five, and a top-of-the-line sound system. Stacked with advanced technology and priced competitively, there has never been a better time to get into an all-electric vehicle. Read on to learn more about the Leaf's capabilities, safety features, and trim options.
Nissan Leaf Electric Capabilities
Driving an electric car gives you a straight rush of acceleration whenever the pedal is hit, with zero emissions. And the floor-mounted lithium-ion battery pack allows for excellent handling and a smooth ride due to its low center of gravity and front-wheel drive. The standard Leaf is equipped with a 147-hp electric engine, and the Leaf Plus comes with a 214-hp electric engine. There are many benefits to a 100% electric vehicle over hybrid and gas.
Nissan Leaf 2022 Trim Levels
The 2022 Nissan Leaf comes in five trim levels. Automatic temperature control, Nissan Intelligent Key, and UV-reducing solar glass come standard on all models. All trims also include front-wheel drive and advanced airbags, along with Nissan's e-Pedal, an innovative singular pedal that provides instantaneous power when pressed and responsive deceleration when you ease off.
The standard S trim is a great vehicle to start with if you're new to electric cars. It is loaded with tech features and safety assists, with a 147-horsepower electric motor. With heated front seats, automatic temperature control settings, and a heated steering wheel, you'll be driving in comfort any season of the year.
Standout Features:
Portable charge cable : Not needing a specialized charging box means you can charge your battery anywhere! When it's time for a charge, it's easy. The Nissan Leaf plugs into any 120-volt or 240-volt outlet, with a full battery charge taking roughly seven hours.
Six-way adjustable front bucket seats : The ergonomic design offers plenty of support along with over 42-inches of legroom. This compact, five-seat hatchback is perfect for zipping around the city or packing up for camping with a cabin of 30 cubic feet!
2022 Nissan Leaf SV
Next up, the SV Hatchback includes all the great features of the standard model, along with heated seats, fog lights, and three months included of SiriusXM radio. The SV model is available in four colors, including gun-metallic and deep blue pearl. The Nissan Advanced Air Bag System includes ten standard airbags: rear, front, side-impact, and roof-mounted curtain positions. Nissan Leaf's are also loaded with anti-lock brakes, tire pressure monitors, and lower anchors for car seats.
Standout Features:
Intelligent Cruise Control : Warns drivers of potential hazards and maintains a safe distance between you and the car ahead. The features include automatic braking when the car ahead is too close or pedestrians are detected-also, automatic braking for rear objects and blind spot warnings when vehicles may be hard to see.
Upgraded tires : The machine-finished aluminum-alloy wheels provide lightweight and advanced styling for a smooth cruise. These add to the Leaf's sporty look and provide improved handling when cornering, accelerating, and braking.
The S Plus is where the Nissan Leaf starts to kick it up a notch. A more powerful electric motor and battery capacity takes your drives to the next level. Includes our standard Safety Shield 360 suite of features that give you a driving assist when you need it most. The S Plus trim is also loaded with anti-lock brakes, tire pressure monitors, and lower anchors for car seats. The S Plus comes with NissanConnect services that provide remote engine starts and other commands.
Standout Features:
8-inch infotainment display : custom design your display like a tablet, moving icons and adding shortcuts to your most used features. Comes equipped with Android Auto and Apple CarPlay. Of course, you can charge your devices through the USB ports and stay up-to-date with your Leaf's battery level and charging time.
Upgraded lithium-ion battery : the Nissan Leaf's range is reliable for almost all trips. The standard Leaf's battery travels 149 miles on a single charge, whereas the Leaf Plus model will go up to 226 miles per charge at 62 kW, perfect for the average commuting day.
2022 Nissan Leaf SV Plus
The SV Plus model offers a loaded option for the electric car driver, including voice recognition for audio and navigation. In addition, the SV Plus comes with a standard electronic parking brake and Intelligent Around View monitor. The e-Pedal on the SV Plus allows the driver to accelerate and slow down using only a singular pedal. When pressure is removed from the pedal, it mimics using the brake pedal to slow and come to a complete stop. This allows for easy and engaging driving for stop-and-go traffic in the city.
Standout Features:
Nissan's ProPilot Assist : a cutting-edge hands-on driver-assist system. Helps with cornering and links with the navigation system for a smoother ride. If the car ahead stops, Assist will bring your vehicle to a complete stop and accelerate again within seconds when traffic clears.
Heated outside mirrors : Melts away snow, ice, and fog to keep your viability open in any weather. An often-underrated safety feature, heated mirrors keep visibility open in potential blind spots.
As the top of the line Nissan Leaf, the SL Plus model is stacked with great features. With a 100 kW quick charge port, this Nissan Leaf gets plugged in and is ready to go in no time. The most luxurious interior of all the Leaf models, including an 8-way power-adjustable driver's seat and leather seats, this trim has you driving in style. Nissan's ProPilot Assist is standard on the SL Plus trim.
Standout Features:
Bose Sound System : Rich, seven-speaker sound is custom-tuned for the acoustics of the Leaf's cabin. This system is energy efficient and won't impact the battery's charge. Connects wirelessly to your phone for all your favorite playlists!
Nissan Door to Door Navigation : Linked to your phone, send your destination to your Leaf ahead of time and continue following them even after you've parked and left your car. You can use the Find My Car feature to save time in a busy parking lot with a push of a button.
The New Nissan Leaf at Fort Worth Nissan
The new 2022 Nissan Leaf is the perfect upgrade to your current ride. With the five different trim levels, there is an ideal Leaf for your needs. So, forget about oil changes, gas prices, and emissions, and join the electric car movement. Schedule a test drive at Fort Worth Nissan today if you want to check out a brand-new model or drive a quality used Nissan Leaf. Contact our team to get in touch and schedule a time to come in. If you're interested in more of Nissan's top models, be sure to check out our research hub!