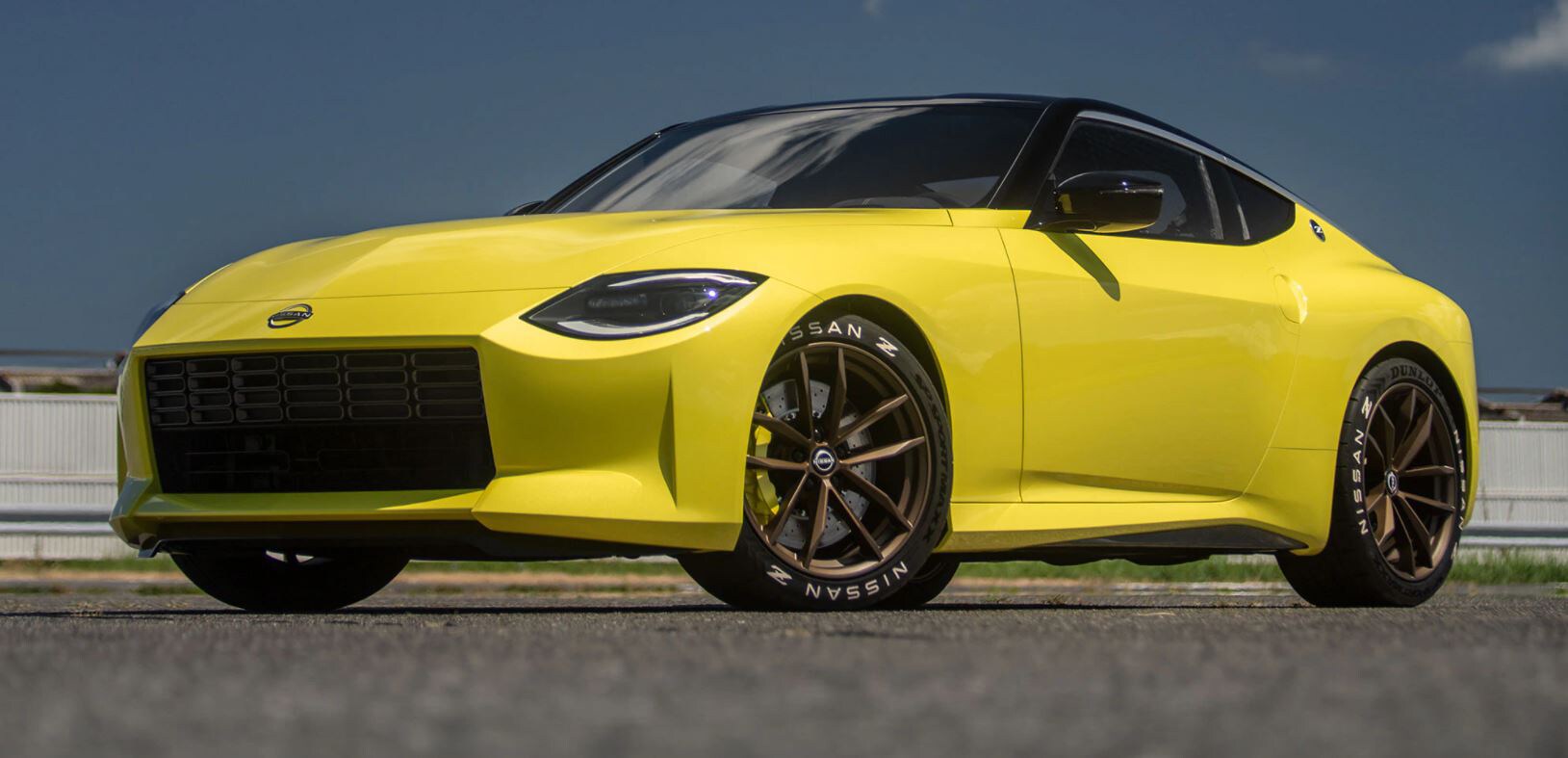 In 1969, Nissan introduced its first Z sports car, and it's been rewriting the rules of sports cars ever since. While Nissan has kept most of the details regarding the all-new 2021 Nissan 400z under wraps, we do have a few details to share. We know that it will come with a twin-turbo V-6 and a six-speed manual transmission.
We also know to expect a retro spin on its design, harking back to more classic vehicles in its headlights and hood. While it may make some people nostalgic, the Nissan 400Z has been modernized to meet sports car enthusiasts' expectations, with leading-edge technology you would expect in a high-performance car.
If you're holding out for the sports car of your dreams, the all-new 400Z may be just what you're looking for. Keep reading to learn more about this exciting new vehicle and how to get in touch with your Nissan dealer in Fort Worth, Texas.
Nissan Z Sports Cars
Since the first Z sports car in 1969, Nissan has built a total of six generations. Since they have been in production for so long, Nissan Zs have become a go-to for aftermarket shops' production of some stunning modified versions. While they're mostly assembled in Japan, Nissan combines highly sought-after attributes such as great aesthetics, affordability, and good performance to provide an irresistible choice for car enthusiasts. 
What You May Not Know About Z-Cars
It's not easy to keep the price of a sports car relatively low, but Nissan has consistently done just that with its Z-cars. They've used interchangeable parts from other vehicles to create these premium performance vehicles. It's also not easy to sell one million units of any car, but Nissan has done that within the United States. 
When Nissan reached that record milestone, the Z-car was the bestselling sports car in the country at that time. Now, a new king-the all-new Z-car-is on the horizon. It's expected to be ready in 2021, but Nissan hasn't announced an official release date. 
What to Expect from the 2021 Nissan 400z
The next Z-car will be totally new for 2021. Nissan's prototype design draws inspiration from previous Z-cars but offers futuristic vibes with interior modernization and updated technology. 
The 400Z is expected to debut as a hardtop, but a convertible version may follow later. 
We expect the new 400Z to debut with more luxury features, more desirable styling, and improved performance-all of which will help it compare with the likes of the BMW Z4, the Supra, and the Audi TT.
Traditional Styling with a Modern Edge
After months of teasing, Nissan unveiled the Z prototype with a heritage-inspired design that pays homage to the Z-car's six prior generations. While the overall shape and dimensions are similar to the 370Z, the design elements are retro in appearance. The 400Z prototype's teardrop headlights and bright yellow pearlescent paint take inspiration from the Datsun 240Z. The rear-end design and taillights are derived from the 300ZX. They've been brought into the modern era with LED.
Other modern touches include carbon fiber elements and LED daytime running lights. On the inside, you'll find a broad touchscreen infotainment system and a digital instrumentation cluster.  
Powerful Engine
While we don't know for sure, what we expect from the new 400Z is an evolved platform and powertrain borrowed from the Infiniti Q60 Coupe. Nissan has confirmed that the vehicle will have a twin-turbo V6 (believed to be the same engine from the Q60) that generates 300 horsepower and 295 lb-ft of torque. The current 370Z's V6 makes 332 horsepower and 270 lb-ft of torque. 
The rumors suggest that the new Z will live up to it's "400Z" name with 400 horsepower on tap. 
Modern Interior
The interior of the 400Z is more overtly modern than its predecessors, largely due to the increased presence of digital screens. You'll find a large touchscreen infotainment display in the dashboard in addition to a 12.3-inch fully-digital instrument cluster.
The vehicle will also have the classic trio of analog gauges on top of the dashboard, round climate controls, and mussel-shell-shaped door handles. While incorporating these new conveniences and features, Nissan seems to be favoring the classic Z-car "driver-first" design.
Infotainment You'll Love
While you may fall in love with the Nissan 400Z in 2021 because of its flashiness and performance, it's still a car you can drive every day. Its 8.0-inch touchscreen display will bring the infotainment you're looking for in a reliable, every-day vehicle. There are also driver-assistance features in the mix that will keep you safe while you enjoy your ride.
Be Among the First to Drive the Nissan 400z at Fort Worth Nissan
For those who enjoyed previous versions of the Nissan Z-car, the 2021 Nissan 400Z will offer a perfect dose of nostalgia. For any new car enthusiasts, it's a fun-to-drive sports car that die-hard Z-car lovers will whole-heartedly agree to. Nissan has a winner on their hands, and we can't wait to get you behind the wheel. While we wait for Nissan to announce an official release date, stop by Forth Worth Nissan to test-drive its predecessor, the 2020 Nissan 370Z. 
Fort Worth Nissan
is conveniently located making it easy to get to from anywhere in Forth Worth, Burleson, and Arlington. If you need any help with any aspect of the car-buying process, don't hesitate to get in touch with one of our sales professionals. For more information about the all new 2021 Nissan 400Z 
Contact Us
today! 
If you're interested in more of Nissan's
 top models, make sure to check out our research hub page for more information.