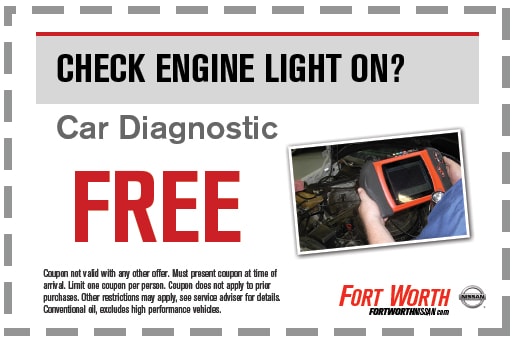 Is your check engine light on?
No need to panic,
Fort Worth Nissan Service department
is here to help. Our Nissan trained technicians will diagnose your check engine light, FREE, free of charge and free of obligation. Using diagnostic tools made specifically for your Nissan, we will let you know what your check engine light is telling you about your Nissan. Our friendly service advisor will go over the necessary repair or maintenance needed to turn off your check engine light and get you back on the road.
Why is your check engine light on?
There is an on-board computer on most Nissan vehicles. The check engine light means the computer has found an issue with your Nissan. There could be any number of things that may have turned on your check engine light; this could be anything from something as simple as a loose gas cap to something that could leave you stranded on the road if not fixed properly.
Don't Ignore That Light
So if the Check Engine light comes on and it's steady rather than flashing, what do you do? The most obvious answer, of course, is to bring it to Fort Worth Nissan Service to get the engine checked. But many people do nothing, perhaps fearing an expensive repair bill. Some drivers with older cars want to squeeze out as many remaining miles as possible without visiting a service garage. But before they can pass their state's vehicle inspection, they have to get the light turned off. If the light is lit, there's a good chance the car is releasing excess pollutants or consuming too much gas.
Don't hesitate bring your vehicle to us today.
At Fort Worth Nissan we understand your vehicle is important to you. This is the driving force behind offering this service to everyone. Whether you purchased your Nissan from us or somewhere else, regardless of how many miles or how old your vehicle is, we will diagnose your check engine light free. 
Don't Trust your Nissan to any repair shop.
There are quite a few repair shops and parts stores that offer to test your check engine light for free. Only a Nissan trained technician has access to the most up to date tools and access to check directly with Nissan for additional technical information. Nissan employees a team of vehicle engineers to advise our technicians and keep them up to date with the most recent information possible.
Should you choose to move forward with the recommended repair to turn your check engine light off, we have included an offer for you below:

Request More Information
Hours
Monday

9:00am - 8:00pm

Tuesday

9:00am - 8:00pm

Wednesday

9:00am -8:00pm

Thursday

9:00am - 8:00pm

Friday

9:00am - 8:00pm

Saturday

9:00am - 8:00pm

Sunday

Closed
See All Department Hours
Dealership Hours
Monday

9:00am - 8:00pm

Tuesday

9:00am - 8:00pm

Wednesday

9:00am -8:00pm

Thursday

9:00am - 8:00pm

Friday

9:00am - 8:00pm

Saturday

9:00am - 8:00pm

Sunday

Closed
Parts Dept. Hours
Monday

7:00am - 600pm

Tuesday

7:00am - 6:00pm

Wednesday

7:00am - 6:00pm

Thursday

7:00am - 6:00pm

Friday

7:00am - 6:00pm

Saturday

7:00am - 6:00pm

Sunday

Closed
Service Dept. Hours
Monday

7:00am - 6:00pm

Tuesday

7:00am - 6:00pm

Wednesday

7:00am - 6:00pm

Thursday

7:00am - 6:00pm

Friday

7:00am - 6:00pm

Saturday

7:00am - 5:00pm

Sunday

Closed